This recipe is not difficult to make, even though it has quite a number of ingredients. It's a great party appetizer. This recipe can be found in my cookbook "From Uncle Bill's Kitchen"."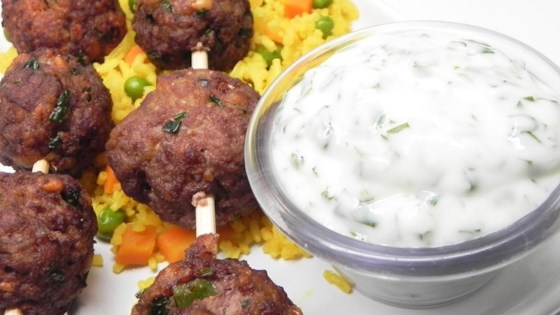 Directions
Add a note
Print
In a mixing bowl, mix together yogurt, salt, small jalapeno pepper, and 3 tablespoons chopped parsley. Set dipping sauce aside.

Soak bread slices in water for 3 minutes. Remove from water, and squeeze out excess moisture. Crumble into a large bowl. Mix in eggs and Worcestershire sauce. Mix in dried bread crumbs, fried onions, garlic, ginger, ground cumin, crushed coriander seed, 4 tablespoons parsley, and large jalapeno pepper. Add ground beef, and work in with your hands until well mixed.

Roll mixture into balls the size of walnuts.

Heat 3 cups of oil in a large, deep, heavy bottomed frying pan until piping hot, about 375 degrees F (190 degrees C). Cook meatballs a few at a time in hot oil until brown and crispy, about 3 to 4 minutes. To check for doneness, cut one in half to see if cooked through; it should be cooked in the center. Remove from oil using a slotted spoon, and place on a plate lined with paper towels to drain. Insert a toothpick into each meatball for serving and dipping. Serve hot or cold with dipping sauce.